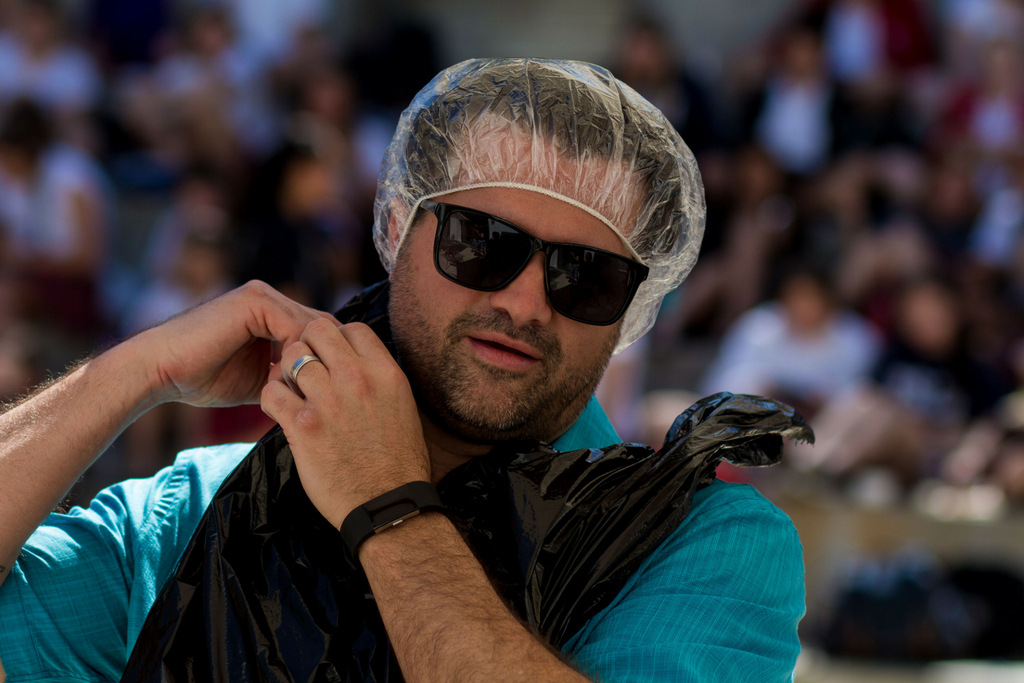 What is your role at Flintridge Sacred Heart?
I teach two blocks of AP Psychology to seniors. I also am an advisor to 40 sophomores and 10 juniors. In addition, I act as the Advising Assembly Coordinator, helping to plan and conduct the advising and health and wellness assemblies throughout the year. Please list any other roles you have on campus (e.g., club moderator (please specify the club), Junior Retreat chaperone, advisor, etc.)
What do your students call you?
Mr. Badzey, Badzey (and a few risk-takers have attempted "Badz" or "T-Badz." Currently, Mr. Dibblee and I are in the process of figuring out ways to distinguish between the two Toms.
What made you want to work at Flintridge Sacred Heart?
I was looking to get back into teaching after years away from the profession. After becoming a licensed therapist in private practice, I wanted to once again put on the teacher hat and help young adults learn and grow. I knew that I specifically wanted to teach at Flintridge Sacred Heart because--having grown up in the area--I have always been aware of the warm, nurturing culture at the school and the quality of student present here (both in terms of academic ability and character). When thinking about potential places to once again teach, Flintridge Sacred Heart ranked high on my list.
What has been your proudest professional accomplishment?
There have been many, but along with becoming a licensed therapist, I would say building a viable private practice that provides help to members of the community. There have been many specific instances when clients have told me that the therapy they did with me helped them make significant, important, and positive changes in their lives.
What has been your favorite teaching moment on the Hill?
It's difficult to say. Every day, I feel as if I experience something new and favorite ... whether it's based on insight that a student has or a humorous exchange during class. Overall, my favorite moments occur when students are struggling with a psychological concept and then I see the "light turn on." I also love it when students are able and willing to apply the concepts we discuss to their own lives. To me, that is the motivation behind this class. For advising, I enjoy it when a student and I come up with a plan (sometimes in conjunction with teachers and parents) to help them with an academic or social-emotional challenge and they later report that this plan worked. That is extremely gratifying.
What most excites you about your work here on the Hill?
I love coming here and interacting with the students. They are so filled with life and a sincere desire to learn and develop as young women. It's inspiring to think that I can be at least a small part of that process.
What is Flintridge Sacred Heart's best kept secret?
I don't know if it's a secret, but the cookies are always amazing.
What do you love about the all-girls environment at Flintridge Sacred Heart?
I love the sense of connection that the girls have among themselves and with the teachers and staff at the school, but more importantly, I think the all-girls environment provides a context for these young woman to explore areas, take risks, and assert themselves in ways that can often be inhibited by a co-ed environment. Having grown up in a family of 5 boys and 1 girl, I also feel blessed to be discovering what this stage in life is about for young women.
What's your favorite spot on campus?
There have been more than a few times when I have sat outside the lounge in the main building to do work, because I love the fresh breeze coming up the hill and the calming effect of that extraordinary view.
When not in the classroom/office, where can you be found?
Probably in the library or chatting with Ms. Sandoval at the front desk. I also like to hibernate sometimes in Cottage 4 (where I conduct advising meetings) catching up on work or planning for the week ahead. I do like to wander at times during break or lunch to mingle with folks, too. What's your favorite place in the world? Right now, it's a tie between Hawaii and Vietnam.
What are you surprisingly good at?
I'm actually pretty good at betting on big horse races like the Kentucky Derby. There have been a few times that I've made enough to finance a small family vacation.
Who has made the biggest impact on your life?
My wife Adrienne and my two boys, Jack (8) and Gavin (5). Being with my wife has taught me so much about life, love, and myself. But the impact of being a father is beyond measure. Once they were born, I realized that my ultimate purpose was not tied to individual accomplishments, but rather to be the best dad possible.
What book, movie, work of art, piece of music, etc. can you not imagine life without?
Star Wars. The series of movies, books, and T.V. shows have made a lasting impact on me ever since I was a kid. I love the mythology and the messages, particularly the emphasis on personal empowerment, shared humanity, the greater good, the importance of family and friend relationships. I could go on and on about it.
What did you want to be when you grew up (at age 12)?
It's hard to recall, but I'm pretty sure I wanted to be a Navy fighter pilot at the time. Thanks, Top Gun.
What do you want to be when you grow up (now)?
You mean other than Jedi? Honestly, I just want to grow up to be a good dad and a good husband whose family will never doubt that I love them.
Back