1954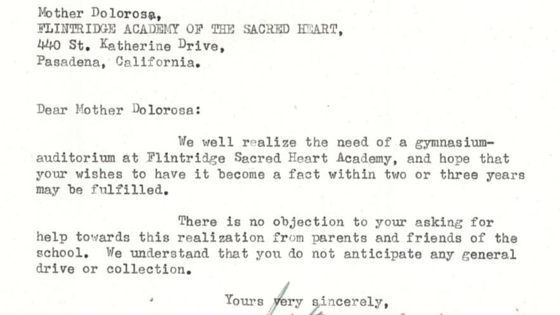 In October of 1954, Mother Dolorosa sent a letter to the Archdiocese of Los Angeles requesting support for the construction of a "gymnasium-auditorium" at Flintridge Sacred Heart. Over the next three years, the Sisters raised $170,000 from parents and friends of the school to fund the project.
1955-56
Construction began in April 1955 and the Auditorium was completed in November 1956. The first performance in the Auditorium was Hugh Benson's "Nativity Miracle" to celebrate Christmas 1956. 
Stagecraft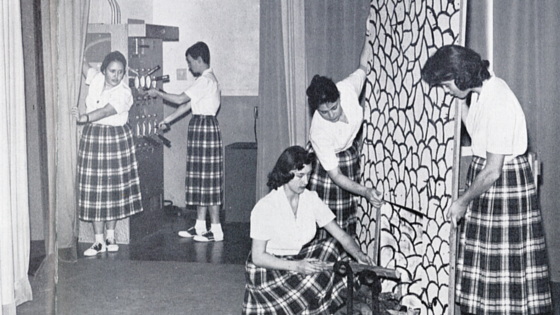 "As the first to work the lights in the newly opened auditorium in December 1956, I have fond memories of missing school for a week as the drama teacher, Roberta Korte Reeves, and I labored to discover which handle on the dimmer board controlled which switch." – S. Katherine Jean, O.P. '59 (pictured at the light board in the background)
1960s

The Auditorium wasn't only used for theatre productions. During the 1960s, students learned the foxtrot, modeled the latest looks on a makeshift runway and attended Mass – all inside the Auditorium.    
1968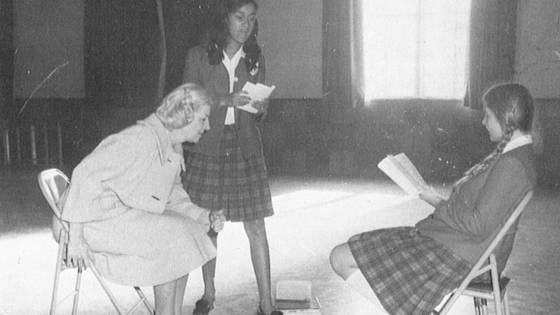 In 1968, Elizabeth Talbot-Martin joined the Flintridge Sacred Heart faculty as the new theatre instructor. With years of professional theatre experience, Talbot-Martin brought a level of professionalism to the Flintridge Sacred Heart stage. She introduced the annual spring production and under her direction Flintridge Sacred Heart produced "Pride and Prejudice," "The King and I," and many more.
1980s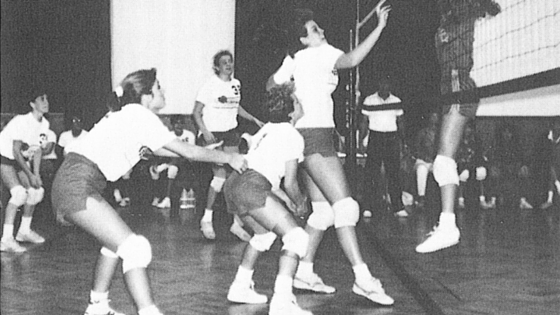 In the early '80s, Athletic Director Betsy Sauer approached Sr. Ramona about moving the P.E. classes and sports practice into the Auditorium. "It was time for the program to move forward," says Betsy. "The days of asphalt sports were gone. We needed regulation-sized equipment."
ComedySportz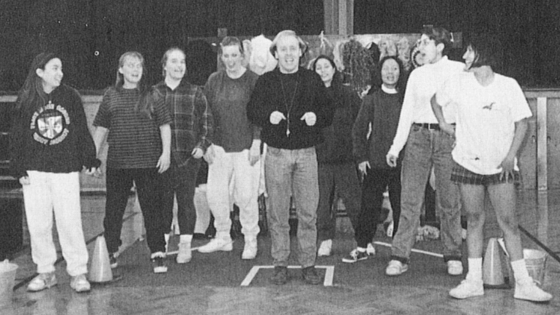 In 1989, James Bailey brought ComedySportz to Flintridge Sacred Heart—a popular extracurricular activity that continues today. The improvisational game featured "matches" between school teams with audience members awarding points.
2000s - Ceramics Studio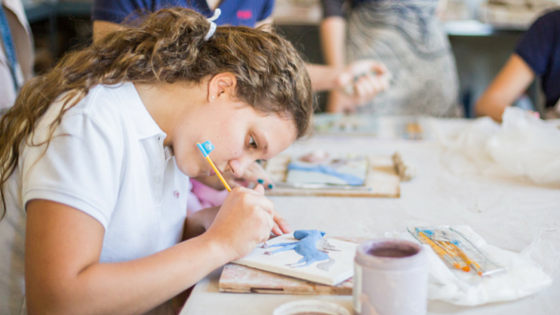 Though Flintridge Sacred Heart began offering ceramics in 2002, the ceramics studio didn't actually move into the Auditorium until 2008. The ceramics studio took the place of the old kitchen, which hadn't been of use since lunch service moved to the newly built Student Activities Center in 1998. 
2015 - Construction Begins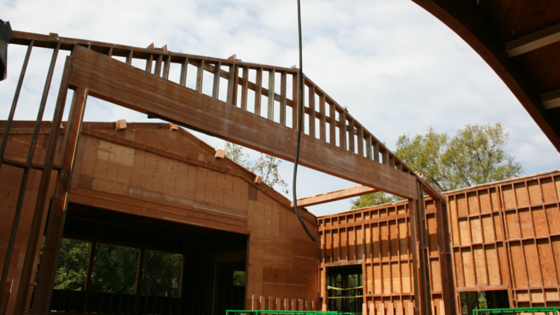 In January of 2015, Flintridge Sacred Heart broke ground on the new Arts Center Remodel.
Grand Opening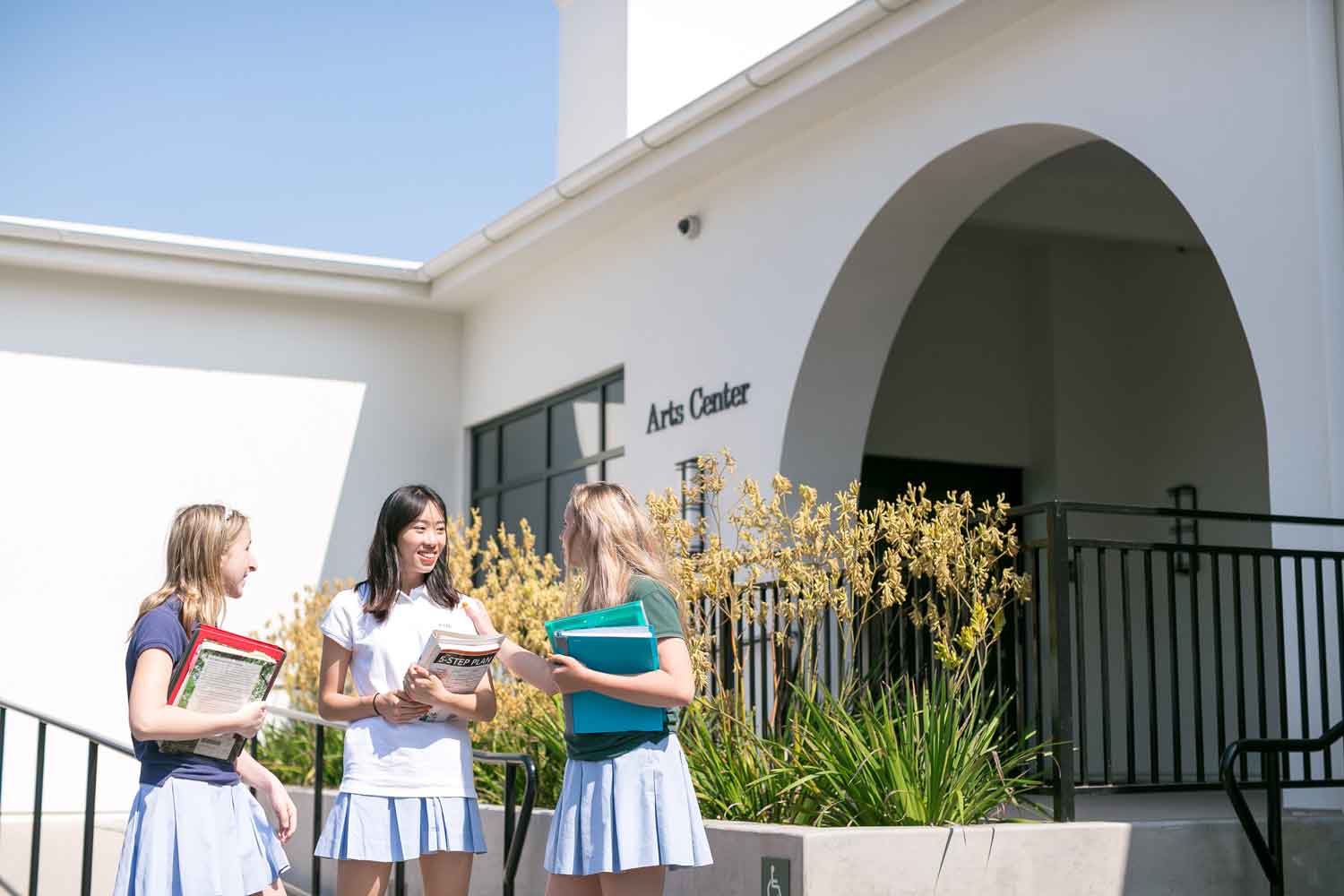 The Arts Center opened in April 2016 with Flintridge Sacred Heart's annual Dance Concert. The building houses our productions, classes and more!